I have been using Blender 3D for around eight or nine years now, following a bunch of tutorials as well as working unassisted. A lot of my learning was with resources published by Andrew Price, also known as BlenderGuru, but until recently I had never actually followed his Blender Beginner Tutorial Series.
So… I figured it's about time to complete the famous "Donut Tutorial".
Although I already knew enough (enough to get by at least) about 3D modelling, materials, lighting, rendering and so on, I'm still something of a student when it comes to the Cycles rendering engine. BlenderGuru is largely regarded as the authority when it comes to teaching this stuff, so I suspected I could learn a few things from going through this "beginner" tutorial. And I was right: I learned a lot!
Anyway, here are some of the renders I took as I worked my way through it: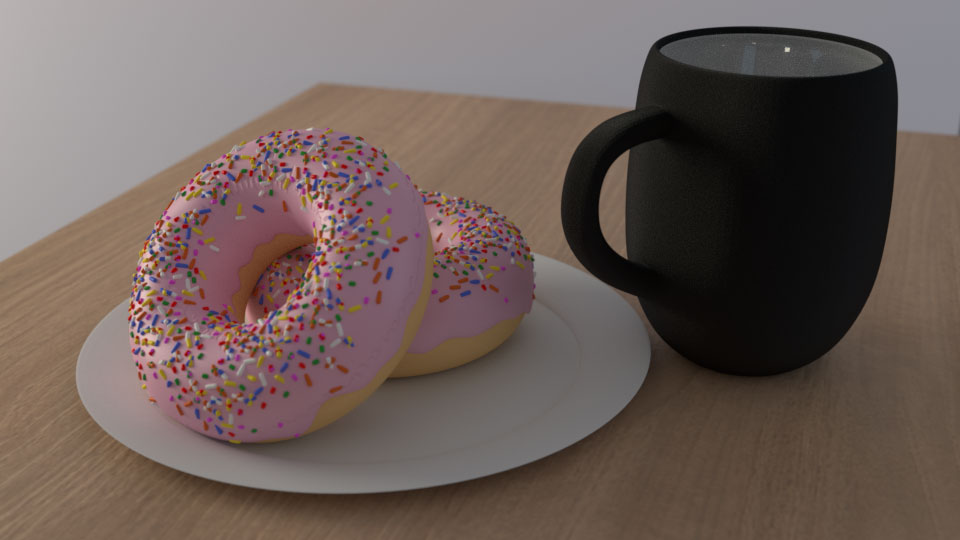 Working through the tutorial, this is the first render I didn't immediately throw on the fire, but it still has its problems. The handle of the cup is too heavily creased at the seam, the mug itself is too matte a texture, there are wrinkles in the icing on the donuts (I was trying to be clever with a UV map there, but let's scrap that for now), and the repetition of the sprinkles is quite evident right in the centre of the image. Also, the plate is unrealistically thin and feels quite papery, and the overall lighting is kind of gloomy. The inside of the mug seems a little too glossy as well.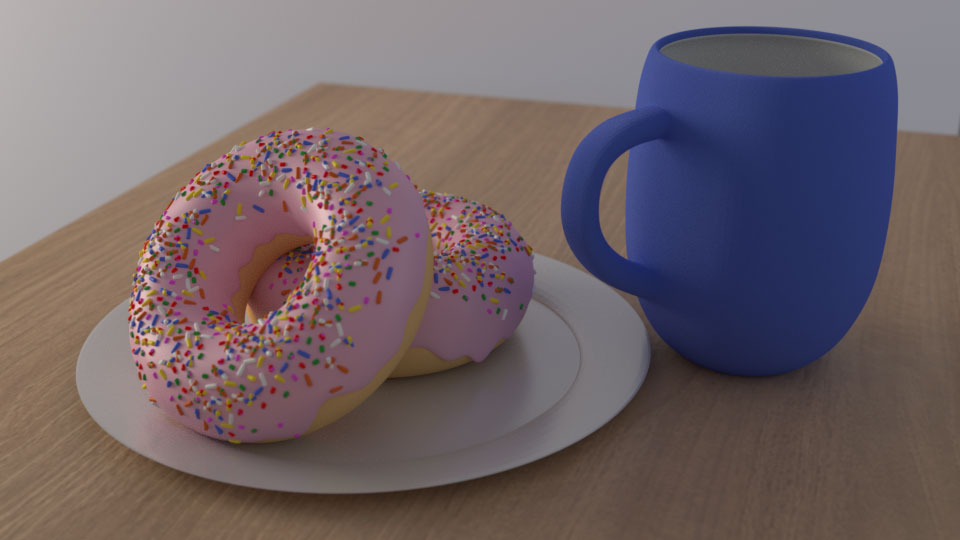 I decided to switch the black mug for a blue one, in the hope of brightening up the image overall. I reduced the gloss inside it too but increased the gloss on the plate. I forgot to increase the thickness modifier on the plate though, so it still isn't quite convincing. The donuts are a little better without the UV map I'd experimented with on the icing, and I rotated the icing round on one of them so the fact it's duplicated is less obvious in the shot. But it all still feels a little flat…
Okay, so let's add a little more interest: I got rid of the matte material on the mug and made it a bit shinier (it isn't quite like the reference photo any more, but it seems more realistic somehow), and then duplicated it so there's a bit more going on in the scene. I changed the colour of each mug individually, and chose shades that match some of the sprinkles I had made, so the whole scene has some consistency to it. All better now, but it still feels a little staged. It needs something…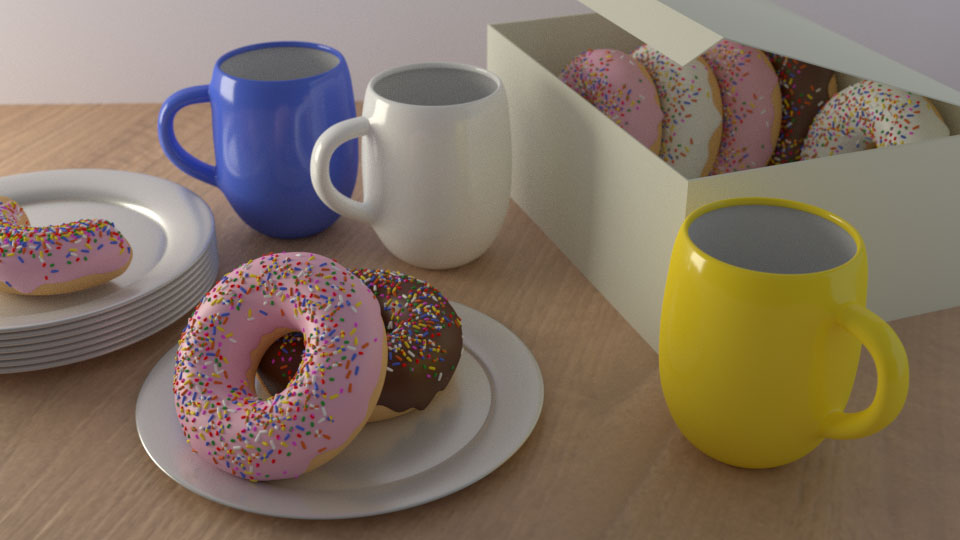 … a bit of movement! Well, not really, but just by moving a few things around and adding a few more objects, I'm trying to give a sense that there are people involved in what's going on here, and not just a still life scene of some uneaten donuts. I've added some different flavour icings, brought in the box the donuts came in (just a simple cuboid mesh with a bit of thickness modifier and a few vertices moved around) and put a stack of plates on the table so others can come grab their treats. OK, I'm getting carried away, but it feels like something's happening.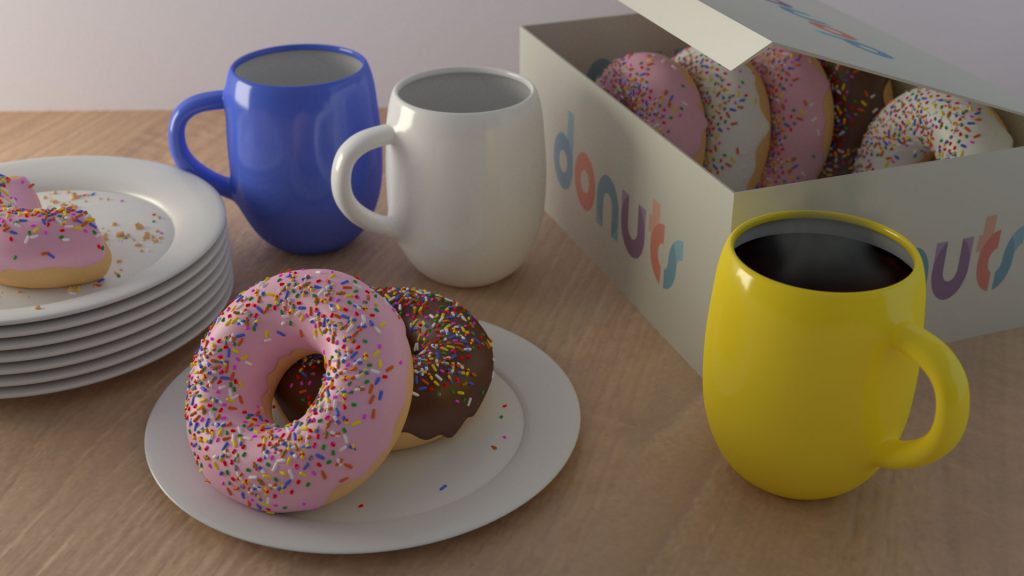 So the donut manufacturers needed a logo. And some of the sprinkles fell off the donuts. And that one that had a bite taken off it has left some crumbs too. Someone's got a hot black coffee in that yellow mug in the foreground and I'm just going to stop now because I'm getting too carried away with all the possible details.
I don't intend this to seem like showboating, this is a beginner's tutorial I followed after all, when I'm hardly a beginner, but the point is I still thought it was worth doing and it was! I learned huge amounts about lighting, render settings, photography and material node setups that were completely invaluable. All the other stuff I piled on top was inspired by the tutorial, and that's what I wanted to share here. The message here is, don't just stop when you've completed an exercise. Keep running with the knowledge you gained. Even if you end up with something a bit crowded (and I'm prepared to admit I went a little overboard here), it's all valuable practise.
Happy Blending!